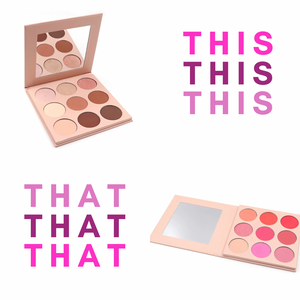 5 Must-Have Makeup Products for a Flawless Look- Twitchez Cosmetics
Welcome back, beauty lovers! Today, I want to share with you my top five must-have makeup products that will help you achieve a flawless look. These products have become staples in my beauty routine, and I can't wait to introduce them to you. So, let's dive right in!
1. Magnolia Palette 
Every makeup lover needs a palette of everyday neutrals that can be used for any occasion. Look for a palette that offers a range of matte and shimmer shades in versatile colors like browns, taupes, and creams. Our brand's Magnolia palette is perfect for creating effortless and timeless eye looks that can be worn from day to night.


2. Loni Highlighter/ Bronzer Palette
For a warm and golden glow, look for a highlighter and bronzer palette that features rich, golden tones. Loni Highlighter/ Bronzer palette includes a mix of shimmering gold highlighters and sun-kissed bronzers that will give your skin a luminous and bronzed effect. Whether you want to achieve a subtle glow or a more intense, sun-drenched look, this palette has you covered.

3. Maleah Mascara:
No makeup look is complete without a swipe of mascara. It instantly opens up your eyes and adds volume and length to your lashes. Opt for a mascara that is smudge-proof and provides intense black color. Our brand's volumizing mascara is a fan-favorite, giving you dramatic lashes without clumping or flaking.

4. Britt Blush:
A pop of color on the cheeks can instantly brighten up your complexion and give you a healthy glow. Choose a blush shade that complements your skin tone and has a buildable formula. Our brand's blushes come in a variety of shades, from soft pinks to vibrant corals, and have a silky texture that blends effortlessly onto the skin.

5. Nita Lipstick or Chloe Lipstick:
Finish off your flawless look with a swipe of lipstick. Whether you prefer a bold red or a subtle nude, a good lipstick can instantly elevate your makeup game. Look for a formula that is long-lasting and moisturizing. Our brand's lipsticks are highly pigmented and infused with nourishing ingredients, ensuring that your lips stay hydrated and vibrant throughout the day.


There you have it, my top five must-have makeup products for a flawless look. These products have become my go-to's for achieving a natural and radiant complexion. Remember, makeup is all about self-expression and enhancing your natural beauty, so have fun experimenting with different products and finding what works best for you. Stay tuned for more beauty tips and product recommendations. Until next time, stay beautiful!
---